Homeowners of Las Gaviotas
Recommendations for Short Term Rentals
Noise Detection
Protection for your rentals. Privacy for your guests. And happy neighbors, too.
There are two companies that provide devices that will detect noise and send a text to the renter alerting them of excessive noise.  If a second excessive noise alert is detected, a text will be sent to both the renter and the homeowner/manager. At this point, you would consider calling the guards at Las Gaviotas.
18 Pelicanos Oeste as of May 2022, is using the outdoor noise detection device monitored by NoiseAware.  If you would like to hear how it is working, reach out to Mark Campbell at 619-736-5535.
Below is what we disclose on our website and in our email correspondence:  NOISE MONITORING: We use devices that measure volume levels throughout the property (like a smoke detector but for noise) and allow us to respond to noise nuisances. The devices are triggered primarily by sustained periods of loud music, not things like loud talking or laughter (which is encouraged!). The devices do not record audio and are 100% privacy compliant.
Access your custom dashboard at any time, on any device. Real-time information, instant alerts, and response capabilities keep you in control.
Directly message guests, sync reservation times, and handle false complaints — all from your dashboard.
$99 for an Indoor Sensor
$99 for an Outdoor Sensor
$180/year for monitoring service.
Protect your home, your neighbors' peace and quiet, and your guests' privacy.  Keep an eye on noise levels, temperature, and occupancy from anywhere in the world.
$99 for an Indoor Sensor
$110/year for monitoring service.
Las Gaviotas Rules - Refrigerator Magnets
Download the "Las Gaviotas Rules for Renters" and the "Las Gaviotas Fines" below.  Consider having it printed on light blue card stock at a print shop like Kinkos and displayed on the refrigerator in a magnetic frame (example shown below).
Purchase 8.5x11 magnetic frames for a refrigerator at Amazon for approximately $20 for a 4 pack.  Also, purchase the 4x6  magnet frame to display the fines for a refrigerator, at Amazon or Walgreens.
Las Gaviotas Fines.      Las Gaviotas Rules for Renters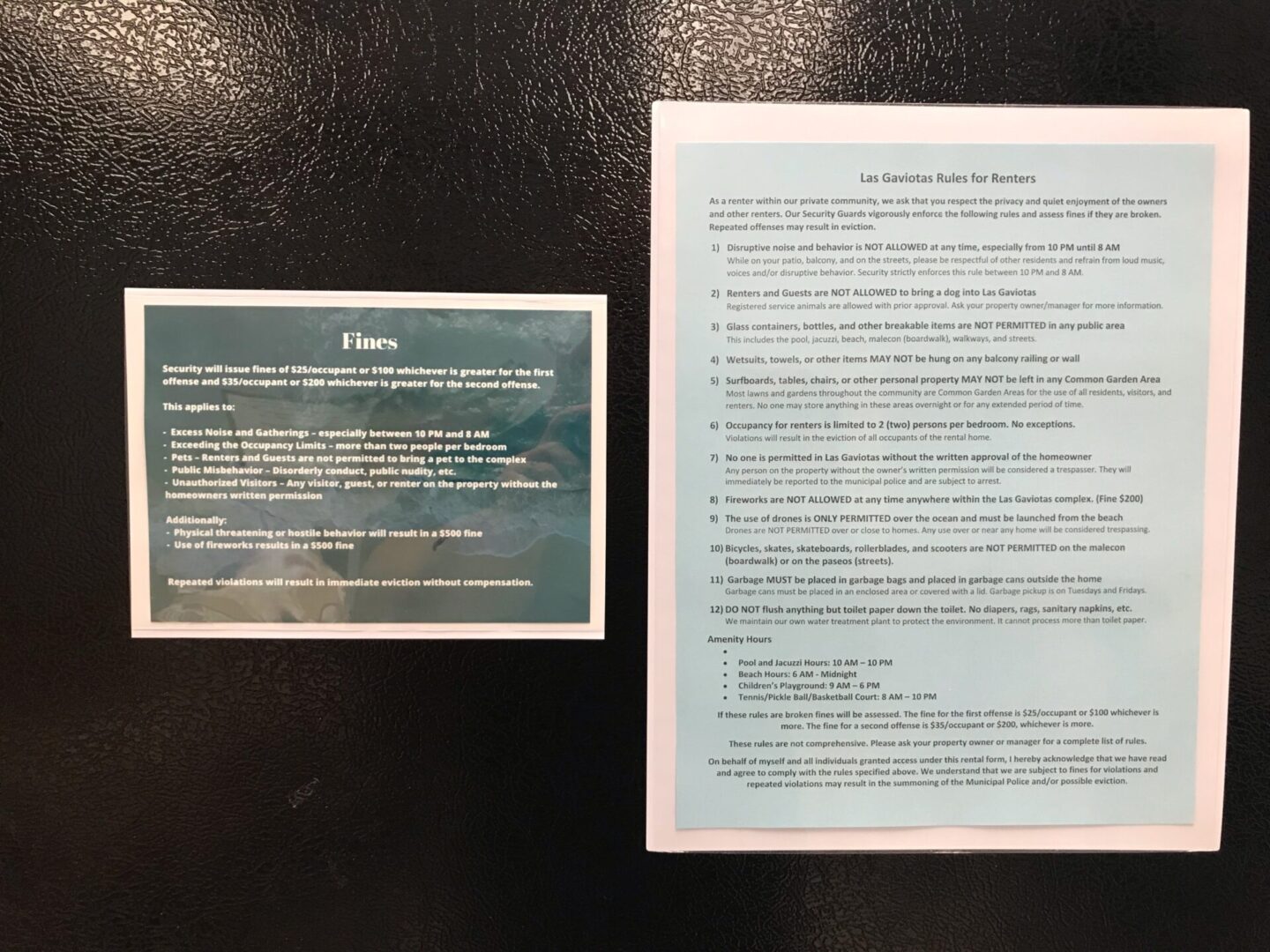 Short Term Rental Downloadable Checklists
Rental Management Software
At Las Gaviotas Rentals we use OwnerRez for our rental management software.  It allows automated bookings, and channel management between listing sites like Airbnb/VRBO, and provides for your own website.
https://www.ownerreservations.com/
If all homeowners and managers that rent homes in Las Gaviotas used OwnerRez we could integrate our Availability Calendars on each of our respective websites/listing sites.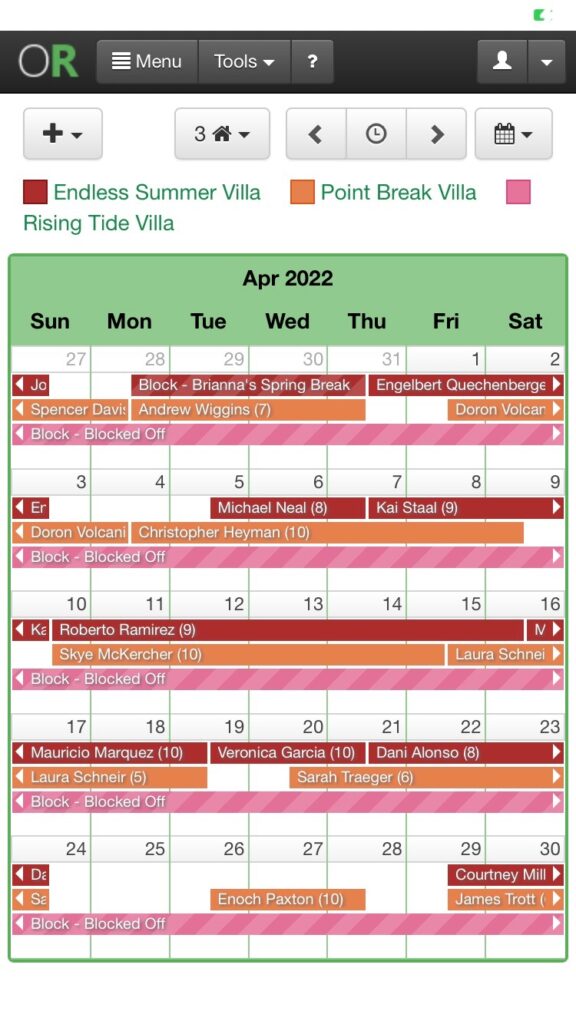 Guidebook
Las Gaviotas Rentals provides a digital guidebook through Touchstay for our renters to add to their phones like an App.
Share insider tips easily
The Google Places integration helps your guests explore Rosarito like locals. Add your best-kept secrets such as favorite restaurants, tourist attractions, and more.
Supply practical information
Provide your guests with driving directions to the front door of your Las Gaviotas rental, access instructions, check-in times, the nearest ATM or grocery store, and more.
Use on any device, in any language
Guests can access the guest welcome book from any device using your unique website link. No app is needed. They can even choose their own language!
PDF version & print capability
The digital welcome book can be saved as a PDF version and printed if needed.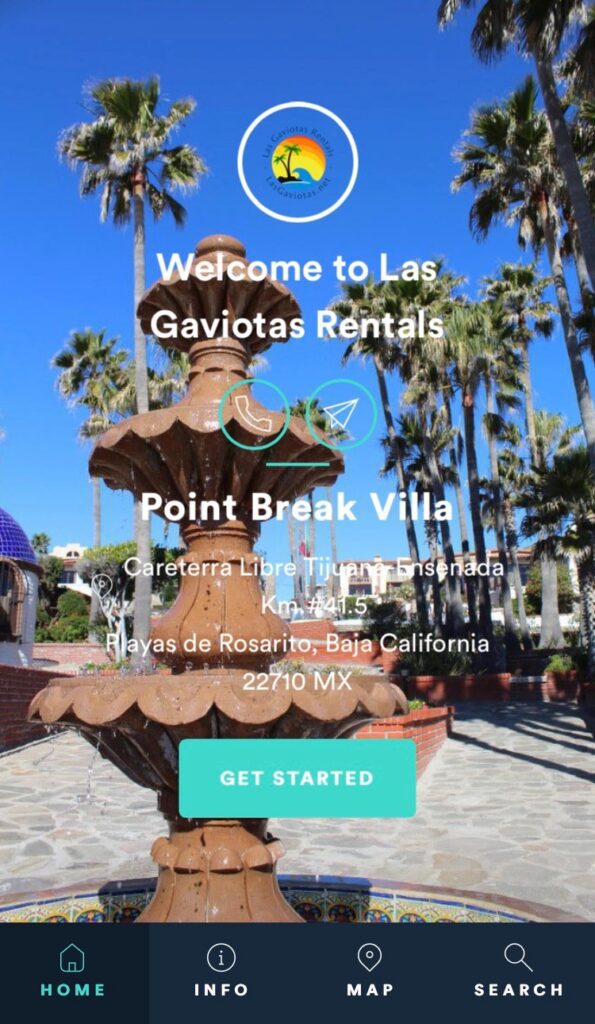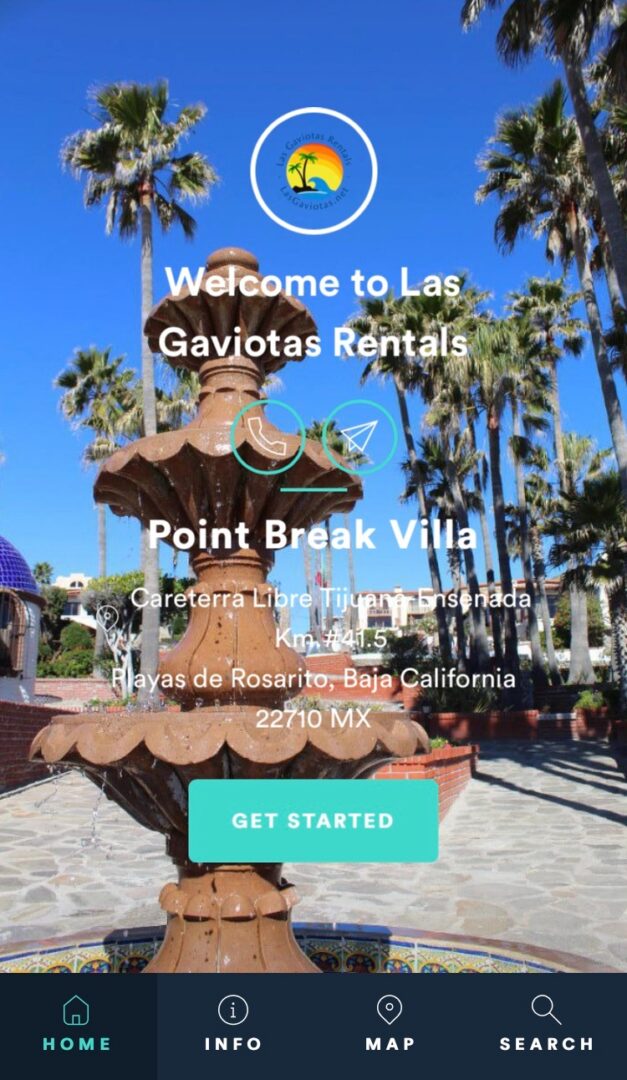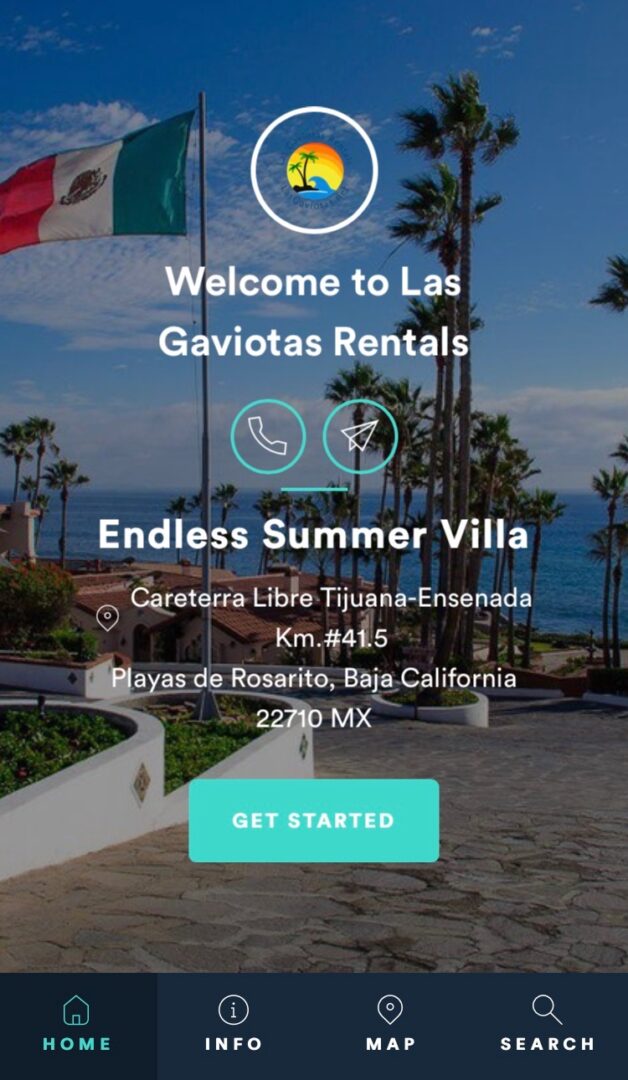 Sustainability
Making your short-term rental more eco-friendly is not only vital to the future of our planet; it's a responsible hosting practice that gives your business more credibility and appeals to guests.
About 71% of global travelers said they want to travel more sustainably this year, according to Booking.com's most recent Sustainable Travel Report.
Out of nearly half of travelers who said they stayed in an eco-friendly accommodation last year, 41% said they chose that specific property to help reduce the environmental footprint of their trip, the report stated.
This trend suggests that joining the effort to make travel more environmentally sustainable brings the added benefit of making your business more sustainable in the long run.
"Property managers and hosts should be getting into this market because it's a growing market," said Bob Garner, an environmental advocate and owner of several eco-friendly vacation rental units in the Marche region of Central Italy.  "And if you're not doing eco stuff, you're not going to attract those eco-travelers who are now starting to think how they can travel more sustainably."
Incremental eco-friendly swaps can pay off in the long-term with added cost savings and increased guest demand. Here are nine ideas to start, ranging from budget friendly to big impact.
LED lights
Replace your incandescent lighting with LED light bulbs. LED light bulbs are the next best thing to shutting off your lights because they consume 75% less energy and last up to 25 times longer than incandescents. For less than $3 a bulb, they offer three-in-one benefits: They're better for the environment, they save you money on electricity, and they consume less time for replacement.
Recycling
Eco-conscious guests typically recycle in their own homes, so they likely expect to recycle when staying at your vacation rental. Even those who don't recycle might make the effort if you make it as easy as possible for them. Provide well-marked, easily accessible recycling bins that are close to the trash can. Additionally, if you expect guests to tote recycling carts to the curb, make sure to post a pickup schedule near the bins and include the schedule in your digital guestbook.
Energy tariffs
A green tariff is an electricity rate offered by a local utility that allows customers to purchase up to 100% of their electricity from renewable sources. By switching to a green tariff, your money is supporting the production of green, renewable energy, and it's as simple as calling your supplier and making the request.
"That's a great way to make your property more sustainable because your energy consumption is one of the biggest factors in global warming," Garner said, "so it's really important that you deal with that characteristic early on and brand yourself using green energy."
If your supplier doesn't offer such a tariff, then consider changing your supplier, if another option exists. The World Resources Institute offers a map of renewable energy suppliers in different states in the U.S.
Ditch single-use plastic
The tiny bottles of shampoo, conditioner, and body wash that often come in short-term rentals are convenient, but they're harmful to the environment. Instead of single-use plastic containers, opt for soap, shampoo, and conditioner dispensers that can be refilled as needed. You might even save money buying in bulk.
Similarly, providing bottled water to your guests is certainly a courtesy that comes with good intentions. Instead, consider providing reusable water bottles – maybe even custom branded to your property! – or encourage guests to bring their own and make sure there's filtered water where they can refill their bottles.
Another way discourage the use of single-use plastic is to stock your property with reusable bags for groceries or the local farmers' markets. You could even gift your guests with a branded reusable bag as a souvenir of their stay at your home.
Low-flow toilets and faucets
U.S. households waste approximately 900 billion gallons of water each year – enough to supply water to about 11 million households, according to the EPA. Meanwhile, two-thirds of the world's population may face water shortages by 2025 if the current consumption rate persists.
Installing water-efficient fixtures and toilets helps conserve this precious resource and saves you money in the form of lower water bills.
Water-efficient, also called "low-flow," toilets, faucets, and showerheads, such as WaterSense-labeled products, can reduce your water consumption by at least 20%, according to the EPA.
Don't fret about a reduction in water pressure: Low-flow faucets are designed to maintain water pressure using aeration and pulse technology.
Leak detection systems
A slightly more advanced way to save water and prevent leaks is installing a leak detection system like Phyn. These types of smart home systems monitor for water leaks, changes in humidity, and freezing temperatures. The system can even shut off your home's water main to prevent property damage, a true savings when you consider that average water leak damage costs nearly $10,000 to repair.
Installing Phyn also could save you money on property insurance premiums. Proper Insurance, which specializes in short-term rental insurance, offers a 10% discount on your base premium with proof of installation.
Energy-efficient appliances
When it's time to replace your appliances, choose ENERGY STAR Certified products. Energy-efficient appliances signal your dedication to sustainable practices and save you money on electricity bills. Check out the ENERGY STAR website for tax rebates you can get on certain appliances.
Depending on the type of appliance, you can save between 20% and 50% on your monthly electricity or natural gas bills. While the price tag for ENERGY STAR appliances tends to be higher, you can recoup that cost over the first few years with the savings in energy bills.
Smart thermostats
These energy-saving gadgets offer an efficient way to heat and cool your home and can be accessed offsite for remote control. The devices save energy by detecting whether a room is occupied or vacant and adjust the temperature accordingly, based on how you program it.
Many smart thermostats are accessible through voice assistants like Amazon Echo and Google Home. Systems designed for rentals allow managers and owners to set minimum and maximum temperatures to prevent unnecessary energy consumption.
Solar panels
Solar panels are among the more expensive upgrades to make your home more eco-friendly, but they can potentially reduce your electricity bills to zero, and you can sell electricity into the grid. Installing solar costs an average of $16,000, ranging from $3,500 to $35,000 depending on the type of technology, according to Forbes.
Highlight sustainability features in your STR listing
Once you've added eco-friendly features, blast the news from your proverbial STR rooftop. In other words, make sure you advertise your short-term rental's sustainability features.
Let your guests know on your website and in your listing the specific, eco-friendly features that you offer and why your guest should feel good about staying at your home.
By going green, you will gain access to speciality online booking sites like Ecobnb, which only list properties with sustainable practices.
Additionally, both Booking.com and Google have created eco badges for vacation rentals that acknowledge operators' sustainability practices and provide guests with a consistent way of searching for sustainable stays.
Both online booking sites are part of the Travalyst coalition, which is seeking to make tourism more sustainable.
As sustainability evolves into an industry standard, it's likely that other booking sites will follow suit.