Eduardo's Mobile Car Wash is a favorite among Las Gaviotas residents. He uses only American-made products, filtered water, and will clean and detail your car in front of your home. His truck is loaded with a huge water storage tank and generator to power his water sprayer and vacuum. Eduardo charges $18 for an exterior wash and an interior cleaning that includes vacuuming, window cleaning, and armor-all of all hard surfaces.
For a few coins more Eduardo will polish and wax your car.  He also details the interior of cars making them look like they just came off the factory floor.  Truly a great value all while you are surfing or laying out at the pool of Las Gaviotas.
Call Eduardo at +52-664-229-5944 or send him a text via WhatsApp. Let Eduardo know the house you are staying at within Las Gaviotas and the time you would like to have your car cleaned. Eduardo is fluent in both Spanish and English.  
Plan on having your car cleaned by Eduardo's Mobile Car Wash the day before you return home.  It is sooooo nice driving back in a newly cleaned car.
Please let him know that the folks at Las Gaviotas Rentals refered you to him.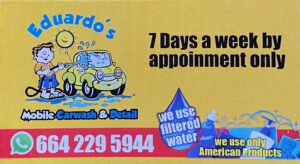 Las Gaviotas activities include Surfing, Beach Volleyball, Pickleball, Tennis, Shuffleboard, Shore Fishing, Putting Green, Playground, Swimming, Surfing Lessons, Tide Pool Exploration, Walks, Bonfires, Launching Chinese Lanterns, BBQ'ing on the beach, Kelp Bed Fishing, Snorkeling, Scuba Diving, Spear Fishing, Weddings, Watching Sunsets, etc.