Puerto Nuevo Lobster Restaurants
The Puerto Nuevo lobster restaurants are located two miles south of Las Gaviotas, 10 minutes south of Rosarito, and 50 minutes from San Diego.  Just make a right at the Guard House and go about 2 kilometers south to the arches of Puerto Nuevo.
Puerto Nuevo is a favorite stop for travelers and has become famous for its Lobster prepared "Puerto Nuevo-style", which is now a world-famous synonym for the exquisite lobster offered in local restaurants, around the world.
Puerto Nuevo has over 30 restaurants that all serve local lobster cooked to perfection and served with steaming bowls of rice, beans, and fresh hand-made tortillas. In Puerto Nuevo, there are many small shops that sell pottery, rustic furniture, blankets, and Cuban cigars.
To the locals, the Puerto Nuevo lobster restaurants are referred to as the "Lobster Village".
A Puerto Nuevo lobster meal will run you around $18 depending on the restaurant you choose. You will definitely leave full. Make sure on your next trip to Las Gaviotas stop in and grab a lobster in Puerto Nuevo.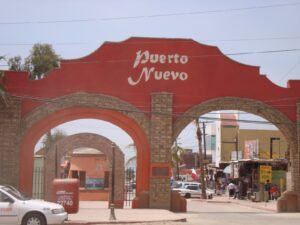 Be sure to arrive well before sundown.  Take a breather from your typical fast-paced lifestyle and relax with a margarita or cerveza.  Enjoy a Pacific Ocean sunset before tucking into a mouth-watering lobster dinner.
Restaurant Villa Ortega's
We at Las Gaviotas Rentals recommend the ocean-front restaurant  Villa Ortega's. It is located on South West corner of Puerto Nuevo.  It has stunning ocean views with tables right on the water.
"Flaming Mexican Coffee" at Puerto Nuevo
Before or after your meal enjoy a coffee at Puerto Nuevo Gallery located in the heart of Puerto Nuevo. The coffee preparation is more of a show with fire as the coffee is poured.  Click the link above to see a video.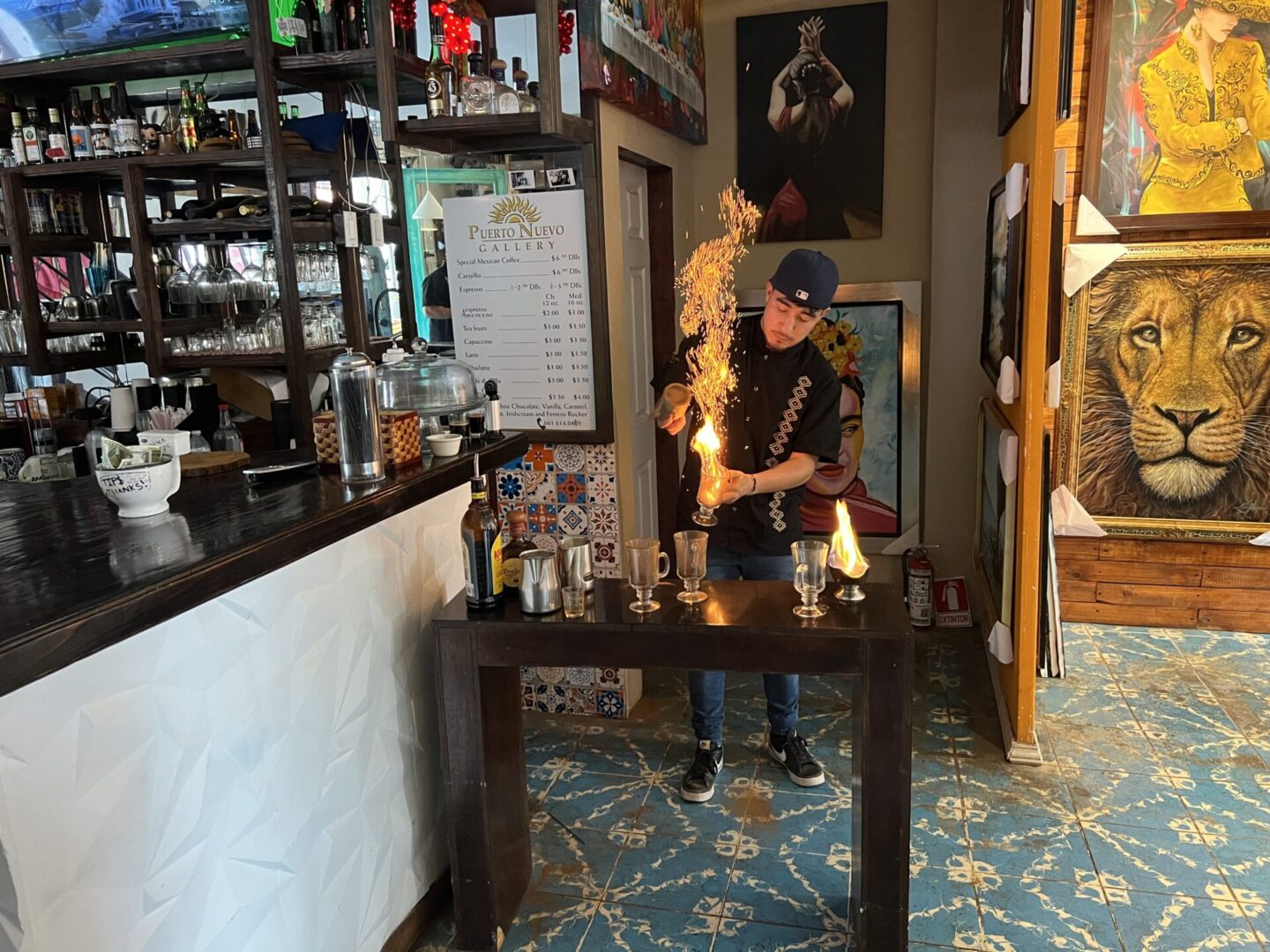 Seafood by the Pool at Las Gaviotas
If you love seafood, check out our Blog on Seafood by the Pool at Las Gaviotas.  We recommend the Ceviche.  The fish tacos are also delicious.  Enjoy them by the pool overlooking the ocean or back at your vacation rental.