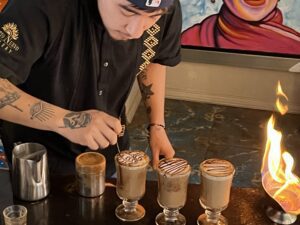 Flaming Mexican Coffee
After lobster dinner at one of the Puerto Nuevo lobster restaurants or a catered meal at your Las Gaviotas rental follow it up with a flaming Mexican Coffee at Puerto Nuevo Gallery.  The coffee is prepared by an employee from the Puerto Nuevo Gallery.  You can visit the Puerto Nuevo Gallery in Puerto Nuevo as seen in the photos and videos here.
Ingredients include coffee, Kahlua, tequila, whipped cream sprinkled with cinnamon, and a cherry on top.  The preparation is a visual delight as the master brewer pours flaming coffee throughout the process.
The flaming Mexican coffee at Puerto Nuevo Gallery, which includes the fire show, is $6 per cup.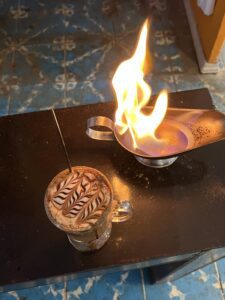 The Puerto Nuevo Gallery was first established in 2003.  It is located at Col. Puerto Nuevo, Paseo del Mar 30, Rosarito Beach, Baja, California.  Just 5 minutes south of Las Gaviotas.
Puerto Nuevo Gallery; +52 661 614 0419; Instagram; Facebook
On GoogleMaps copy/paster: P.º del Mar 30, El Paraíso, 22740 Puerto Nuevo, B.C., Mexico
Straw Art at Puerto Nuevo Gallery
Brothers, Oscar and Octavio Morales, are the owners of Puerto Nuevo Gallery and are both artisans.  They use an old Aztec technique called "Popote Coloreado" translated as colored straw or more commonly known as Straw Art.
The brothers opened the gallery in the center of the lobster dinner restaurants in Puerto Nuevo.  They show their works but also the art of local artists and of course, they serve great coffee in the cafeteria.