After a morning of surfing, fishing, or a beautiful walk along the shore in front of Las Gaviotas try an afternoon of Rosarito Sand Dunes ATV riding along the ocean. To get to the Rosarito sand dunes turn right out of Las Gaviotas and head south about 3 miles. Just past the village of Primo Tapia, by the beach, are the dunes formations that cover a few square kilometers, these oceanfront dunes are known as Los Arenales. Los Arenales is an internationally famous place for people who enjoy ATVs, motocross, and 4x4 vehicles. When you visit Los Arenales you will see contrasting sceneries, highlighting the desert sand and the sea.
You can rent ATVs with helmets at Quads Rentals. Click here for their GoogleMaps site. Their phone number is +52-664-594-3333. While driving south from Las Gaviotas you will see the start of the sand dunes and Quads Rentals right away.
Following a great afternoon of ATV riding, head back to Las Gaviotas and jump in the pool or get a sunset surfing session in. Nothing feels better than washing off that sand that accumulated in various parts of your skin. If you are not familiar with Las Gaviotas, check out our website, LasGaviotas.net, to see why Las Gaviotas is considered the nicest ocean-front gated/guarded complex in northern Baja.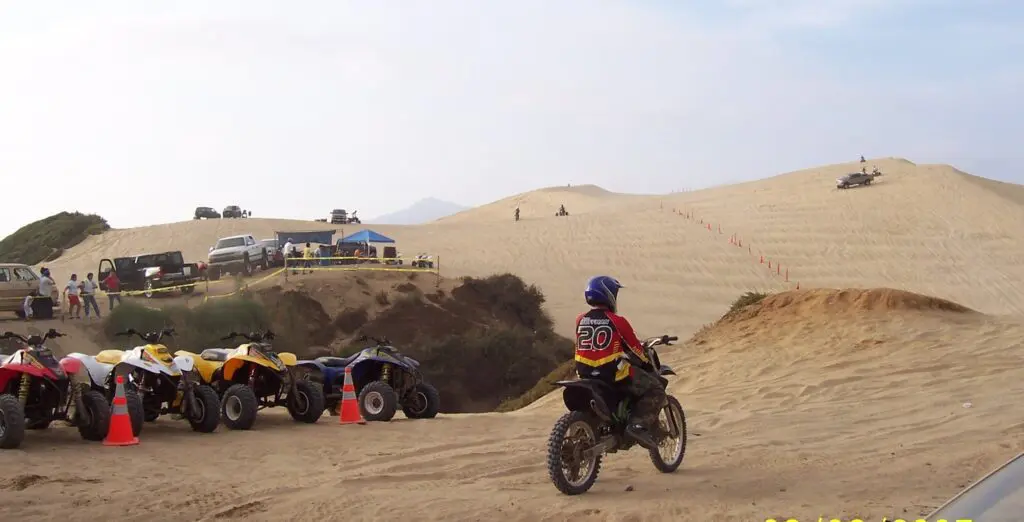 Las Gaviotas activities include Surfing, Beach Volleyball, Pickleball, Tennis, Shuffleboard, Shore Fishing, Playground, Swimming, Surfing Lessons, Tide Pool Exploration, Walks, Bonfires, Launching Chinese Lanterns, BBQ'ing on the beach, Kelp Bed Fishing, Snorkeling, Scuba Diving, Spear Fishing, Weddings, Watching Sunsets, etc.
Las Gaviotas, Careterra Libre Tijuana-Ensenada Km.#41.5, Playas de Rosarito, BC Mexico 22710