Surfing at Las Gaviotas
Las Gaviotas surfing is like having your personal, private Baja surf spot. Surf almost perfect waves with no crowds! Stay at Endless Summer Villa or Point Break Villa and surf right outside your door. Plenty of space to store your boards and park your car where it is safe inside the walled, gated community, where there is an hourly, walking patrol of security guards.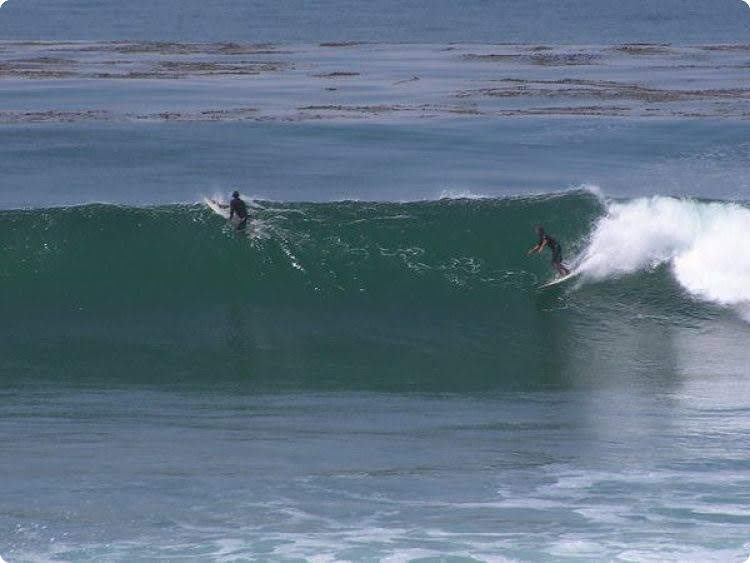 Wave Conditions/Types
The surf break at Las Gaviotas is a reef break that has reliable surf year-round. Spring and Fall are favored times of year for waves.  The Summer of course brings warm waters and excellent waves as well.  Offshore winds blow from the northeast. A south swell breaks best. The waves break predominantly right but there are lefts as well. The best part – It very rarely gets crowded here.
What to Expect/Bring
The surf conditions are similar to Southern California. During the months of October to April, surfing in Baja, the water temperature ranges between 50 and 60 degrees, so it is always best to wear a full suit. Swells during the winter period typically come from the West to Northwest and are fairly consistent. Summer months offer great surfing with spring suit to trunk conditions with temperatures ranging from high 60's to mid 70's.
Conditions
The Las Gaviotas surfing sometimes referred to as "Gavs", is mostly fast power rights (with occasional lefts) and holds into the afternoon with kelp beds helping just outside the break. The height is head high to double overhead with regular consistency. The skill required is from beginner to pro. When you stay at Point Break Villa or Endless Summer Villa you can sit on your patio, watch the conditions, and head out when you and the break are ready.
Guest review on surfing at Las Gaviotas
I've stayed at both Endless Summer Villa and Point Break Villa with my wife and as a guys surf trip numerous times. What can I say…. It's my happy place! A typical day in these villas goes something like this… You wake up and pour yourself a hot cup of coffee, Walk 20 yards down to the beach and check the morning surf. Finish up my coffee, pick my favorite board for the conditions, throw on my wet suit and get a solid morning surf session. A little about the surf…. The main break right out front of the villas is an AWESOME reef break that has a super fun, consistent right-hand wave. And on most days, you can snag some snappy lefts off the top (north end) of the reef. But the best part of it all… is you have insanely fun consistent waves all day with NO SO-CAL CROWDS!!!!! Most weekdays, my buddies and I will have the whole reef to ourselves for hours. Weekends may be a handful during peak times.
Once I feel like I can't lift my arms to paddle any longer, I wash off under the beach shower and jump in the hot tub to recoup. After that, we like to cook breakfast as a family, but there is also a great French restaurant right across the street that is phenomenal and a mom N' pop authentic Mexican restaurant about a half-mile south of the complex that is also a solid option. Next, If I'm with the guys, we usually take a nap and have a few beers out on the huge terrace looking out at the ocean that both villas have. But if I'm with my wife, she's usually well rested from sleeping in and wants to go to the beautiful winery's just a 45-minute drive, near Ensanada. The wineries have beautiful views, great wine, and are super affordable!! One of our favorite activities (outside of surfing).
Next is Lunch at the best street taco joint in the world, TACO SURF!!!! Taco Surf is about 1.5 miles north of the complex, sits right along the water next to K38. The tacos and tortas will change your life! After a chill afternoon hanging by the pool and beach, we jump back in the ocean for a sunset surf…. These are my favorite. After coming out of the water, we always have wood and cold beers sitting on the beach to warm up next to a bonfire. We finish off the night sitting around the fire telling stories and enjoying each other's company. Well, That's a day in the life of staying at Endless Summer/Point Break Villa.
Mark and Antoinette are awesome hosts, super helpful, and always around if you need anything along the way. I highly recommend these accommodations, you won't be disappointed. I could write for days about the endless things to do near the complex. Shopping for freshly caught seafood on the beach, bar hopping in Rosarito, four-wheeling in the dunes, day trip to Ensanada, etc… You gotta check it out for yourself!!
Other Activities
Las Gaviotas activities include Surfing, Beach Volleyball, Pickleball, Tennis, Shuffleboard, Shore Fishing, Playground, Swimming, Surfing Lessons, Tide Pool Exploration, Walks, Bonfires, Launching Chinese Lanterns, BBQ'ing on the beach, Kelp Bed Fishing, Snorkeling, Scuba Diving, Spear Fishing, Weddings, Watching Sunsets, etc.