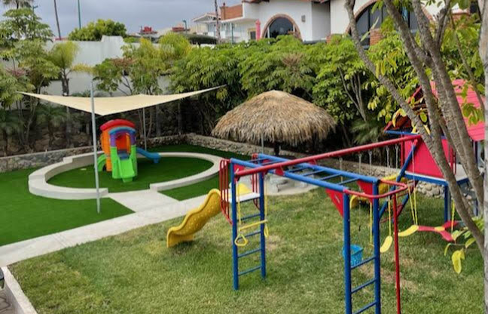 Located on the second street down from the guardhouse (Pelicanos Este) of Las Gaviotas and approximately halfway to the south end of the complex, you will find the Las Gaviotas playground.
After a great morning of surfing at Las Gaviotas, be the good parents that you are and take your toddlers and elementary school-age kids to the playground.  You will spend some quality family time while also helping those little ones use up a little of their seemingly bottomless energy.
There are two sections of the playground.  One is for two to five-year-olds.  The other is for six to twelve-year-olds.
In addition, there are shaded areas for the children, parents, and babysitters.
Another activity in the area to consider for young children is exploring the tide pools in front of Las Gaviotas during low tide.
See our Blog post on Hair Braiding and Henna Tattoos as well.
For middle schoolers, parents, and grandparents, take an afternoon to play laser tag at Laser Quest at the shopping mall at the North end of the town of Rosarito.
The Go-Carts in the middle of the town of Rosarito is also a great place to have kids sit on your lap or if they are old enough, drive their own go-carts.